Dear OGD Platform Users,
The year-long
"#OpenGovDataHack" concluded with the National Award Ceremony at Stein Auditorium, India Habitat Centre, New Delhi on 01-Nov-2018.
Shri Ravi Shankar Prasad, Hon'ble Minister of Electronics & Information Technology and Law & Justice, felicitated the awardees.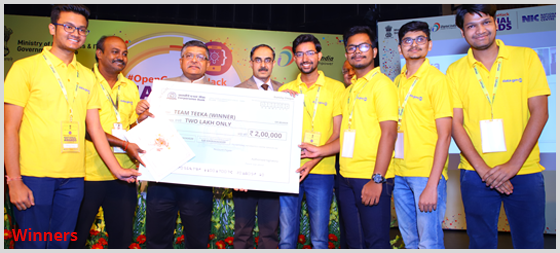 National Informatics Centre (NIC) in association with Internet & Mobile Association of India (IAMAI) had organized "#OpenGovDataHack" for Students, Entrepreneurs, Innovators, Start-ups, Developers and Community to create unique and innovative service delivery Applications & Info-Graphics to foster innovation. The sectors selected for the Hackathon were Water & Sanitation, Transport, Education, Crime and Health.

Datasets/Apps

Visualization

Consumption of Crude Oil, Natural Gas and Petroleum Products during 2010-11 to 2016-17

APIs

Real time Air Quality Index from various locations

Visualization Using Own Data

Do you want to CREATE VISUALIZATION on our platform using your own Data?

Indicative High Value Data Sets

District wise and month wise queries of farmers in Kisan Call Centre (KCC) during 2018

Community


OGD Community Portal
will help you to brainstorm ideas based on your interest. Keep visiting the section for Visualizations, Blog Posts, Infographics and updates in the Community section. You can also contribute your Visualizations, Blog Posts and Infographics. The entries will be published after moderation by the OGD PMU.

Suggest/Endorse

Did not find the required dataset?
Do not hesitate to suggest the same.

Share your experiences, stimulate new ideas, and demonstrate the power of putting open data to work.


/ dataportalofindia
/ DataPortalIndia

011-24305940, 011-24305370, 011-24305381,


011-24305395


Project Management Unit (PMU),

Open Government Data (OGD) Platform India,

3rd Floor, National Informatics Centre A-Block,

CGO Complex, Lodhi Road, New Delhi - 110003.
https://dev.demodata.nic.in/news-letters/newsletter-november-2018