Dear Data Enthusiasts,
Open Data plays a vital role in fighting the war against Novel Coronavirus.
Across the world governments, communities, researchers, academic professionals, etc.
came out with real time dashboards, visualizations, infographics, reports, etc.
and help authorities in better data-driven decision making.

Ministry of Health and Family Welfare (MoHFW),
Government of India has created a simple dashboard with required datasets updated on a regular basis. Refer the site for latest information.

Open Government Data (OGD) Platform India (https://data.gov.in) team is creating
daily infographics using data and information from MoHFW.
OGD users can also contribute Blogs, Visualizations, Infographics, etc. in
OGD Community Portal.
Explore Datasets available on OGD Platform related to
Health Infrastructure.
These can be accessed at
Health Infra (with Smart City Datasets)
and Health Infra (with Rajya Sabha QA).
Datasets/Apps
COVID-19 INDIA lndicator Dashboard is available with Data Sourced from
M/o Health and Family Welfare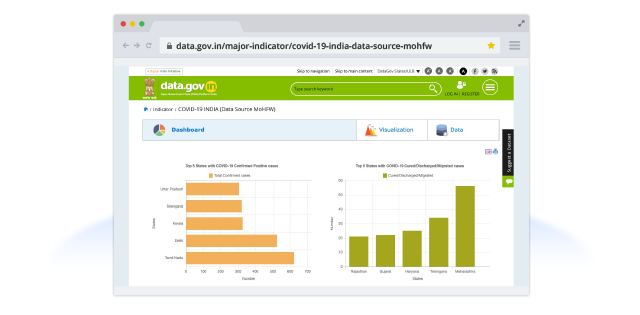 other initiatives

Share your experiences, stimulate new ideas, and demonstrate the power of putting open data to work.



011-24305940,

011-24305381,

011-24305370





Project Management Unit (PMU),

Open Government Data (OGD) Platform India,

3rd Floor, National Informatics Centre A-Block,

CGO Complex, Lodhi Road, New Delhi - 110003.